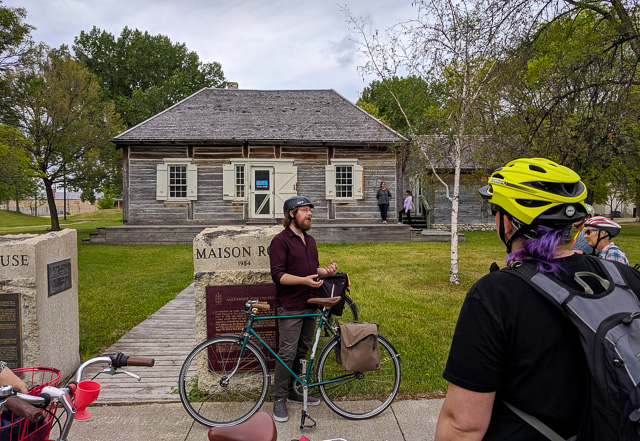 If you haven't had the chance to join us for a Pedal into History bike tour yet there are still more opportunities to register for one of these fund and informing rides!
Curator of Seven Oaks House Museum, Eric Napier Strong, has drawn deeply on his historical expertise to develop this series of rides exploring different areas of Manitoba's early history.
Ride participants are guided between historic sites by bicycle, and treated to in-person interpretation relating to the history of each site, local community and early Manitoba.
Cost: $10 + Fees
Pedal into History – Across the Assiniboine
Sunday, August 9th – 9:30 am – 11:30 am
Winnipeg's role as "Gateway to the West" made us more than just a metropolis: Our city became a model for Canada's west-ward expansion, settlement, and colonization. What did that process really mean for the people of Manitoba, and what lessons can we learn from our rich architectural heritage?
This 10km ride will take you Across the Assiniboine to explore an area that went from bison-hunting grounds, to a playground for Winnipeg's wealthiest.
Curator of Seven Oaks House Museum, Eric Napier Strong, is our guide for this entry in the Pedal Into History series. Drawing on his deep historical expertise, Eric will share Winnipeg's early history with us as we follow one of the city's most scenic rides along the Assiniboine River. The tour will help you better understand:
The development of west Winnipeg
Evolving architectural styles from the 1850s to the 1930s
Indigenous history along the Assiniboine
The role of city planning in colonization
Pedal into History – Birth of a Province
The Birth of a Province bike tours will take us through history before we became a province, the architecture and the different perspectives of French and English Metis communities.
Take a deep dive into Manitoba's history and learn more about familiar names like Riel, Bishop Grandin and many more.
August 20th we are meeting at The Forks at the Oodena Circle at 7 p.m. The ride is 5.5 km and will end around 8:30. You can register for the ride here, we hope to see you there!
September 20th we are also meeting at the Oodena Circle at The Forks but at 1:30-3:00 p.m., You can register for the September ride here!
Pedal into History – St. Norbert
Eric Napier Strong, curator of shares the history of Seven Oaks House Museum, draws on his expertise to present the history of St. Norbert.
More information coming soon.
Tour length will be 20-25km, and will take us through St. Norbert and out to the St. Norbert Heritage Park.
---
---