Three Plans for Protected Bike Lanes in Winnipeg
May 12, 2015 @ 19:00

-

21:00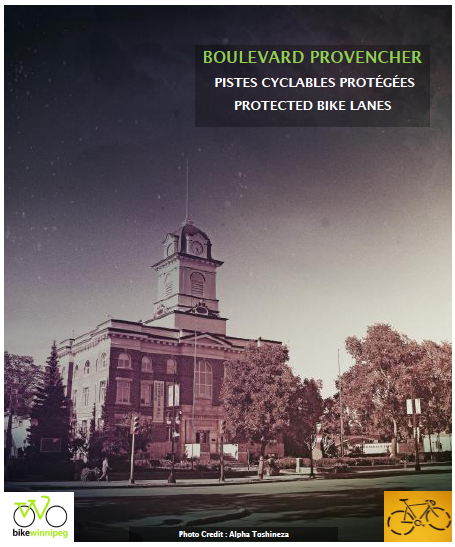 Across North America, cities are re-invigorating neighbourhoods with the installation of protected bike lanes that encourage people to get out of their cars and onto their bikes. Streets that were once monopolized by cars and trucks have been reinvented to more equitably share public space between pedestrians, cyclists and motorists. As pedestrians and cyclists return to the street, local businesses thrive and the value of neighbourhood housing rises.
It's a story we've seen repeated across the continent. We think its time for Winnipeg to join the movement for protected bike lanes!
Learn about Plans for Protected Bike Lanes in Winnipeg
Drop by the Sport 4 Life Centre on Tuesday May 12th to learn about plans being put forth for protected bike lanes on Provencher Boulevard, Main Street and Fort/Garry Streets.
Bike Winnipeg Director Stephan Dorge will showcase plans for Provencher Boulevard, Dustin Dilts will introduce us to plans for protected bike lanes along Main Street, and Bike Winnipeg Executive Director will put forward plans for protected bike lanes on Fort and Garry Streets.
Discussion of plans for Marion Widening & Grade Separation
Major plans for a widening of Marion Street between Lagimodiere and Des Meurons are well under way, and will have a major effect on the livability of the existing and future neighbourhoods that surround it. We will finish off the evening by going through the recommended design that were brought forth at the April 28th open house and discuss ways to see these planes change into something that is appropriate for the neighourhood.
Hosting a cycling related event in Winnipeg? If it fits within our event list posting guidelines, we'd be happy to post it for you. Please email us at eventlistings@bikewinnipeg.ca.